Backpacking Trip To Halape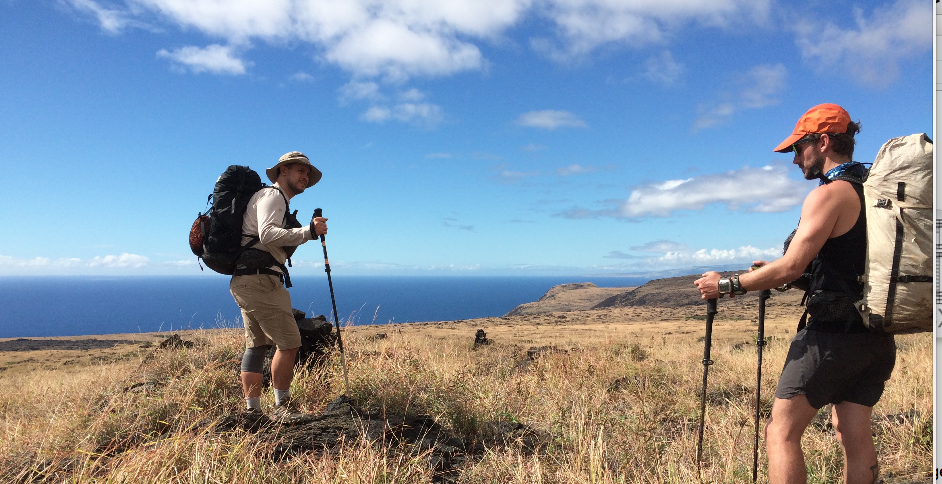 This past weekend I traveled to the Big Island for a 2-night, 3-day backpacking trip. Our destination was Halape.
Located in Hawaii Volcanoes National Park, Halape is accessible by the old Keauhou Trail on the Puna-Ka'u Coast. According to the National Park Service Site, it is 7.7 miles from the nearest trailhead.
This trip was reminiscent to me of the time in college I hiked the Napali Coast to Kalalau. I met new people, got huge blisters, and had an amazing time. No different this go around.
Camping is rad. It's always memorable. Campfires, gritty, but delicious fresh ground coffee (thank you Justin), hammocks, epic sunrises, and a good book on a secluded beach.
And no cell phone service.
One thing about camping at a place like this is the people you get to meet. This trip we met 2 brothers from Canada staying on the island for a month and then going to Kauai for another month. They were enjoying this time in their lives. And we spent the night bantering and discussing Quantum Physics, Star Wars, Hawaii and the fact that you can always count on Europeans to pick you up when you're hitchhiking. One brother, Kyle, traveled from Vancouver to Toronto on $10 in 3.5 days.
Halape is a must-visit for sure. The hike in was not that bad, the hike out is a bit taxing if you don't take the coastal trail. You climb about 3,000 ft of elevation over 8.5 miles and no shade. And you're on a volcano. Needless to say it's hot.
Great memories made with the group: Nate, Chase, Justin, and Bonnie. I met Justin and Bonnie at the airport on our way. Bonnie is 6-months pregnant. Much respect for her doing this hike!
Justin and Bonnie taught us all a new card game: euchre. Apparently it's a midwestern thing. Regardless, it was a lot of fun.
Thanks to my buddy Nate Luzod for the invite, love his passion for the outdoors and hiking. It was great getting to spend more time with Chase Norton, superstar hiker and endurance athlete and met some new friends Justin and Bonnie. Solid people. Solid Trip.
I snapped some photos with my Nikon D5500 and iphone. You can see all the photos on my flickr page.

Nate and Chase surveying the view on our trek in.

Justin and Bonnie hiking across the first 1 - 1.5 miles of black lava.

Arrival to Halape.

First night we arrived. Some dude hiked his surfboard in and was rewarded with a nice, clean right all to himself.

Like I said, he was rewarded.

This is about when I considered hiking back to rent a surfboard. Guy is shredding.

Halape - beautiful at dusk.

Justin and Bonnie teaching us Euchre.

Hopefully hearts is trump this set.

Lonely island - view from Halape beach facing straight out.

Opihi - tasty little clams. They stick to the rocks but you can pop em off for a nice little snack. Super pricey in restaurants. Free in Halape!

Chase - probably thinking about what he's going to have for dinner.

Sunrise on day 3. Probably my favorite photo of the weekend.

Hiking out of Halape. The vast expanse.

This is what it looks like after hiking up 3k feet of elevation, in mid-day, 90+ degree heat on a volcano with a 40lb pack.

Volcano: 1 | Luke: 0 (photo by Chase Norton)

Ending the day playing more euchre back in Hilo waiting for our flight. Until next time!