HACK Issue 12: Okta breach recap, Ryan Reynolds loves 1Password, and Zelenskyy's leadership
Hello dear readers, great to be back in your inbox after a 2-week break. I was able to travel to Tel Aviv for work and California for a wedding and to see family. I'm knee deep in planning for upcoming conferences and events for Lightspin, and the feeling to be back to in person experiences is 11 out of 10! Travel is back, baby.
Onward...
Security links and tweets
Biggest story this week is LAPSUS$ and Okta. Here's Brian Krebs' piece on LAPSUS$. In general, lots of SIM swapping doxing and social engineering from a young and less organized group but Brian cautions on dismissing them as trivial - they're most certainly not.
Re: Okta, I'll cite @malwarejake's thread from yesterday as I think it's the best overview and analysis. There's hot takes on some of Okta's claims which do seem a bit quizzical and head scratching. @sweis also had a funny but true take:
CISA doing a full presentation and Q&A on Russian cyberattack - great to see that transparency and commitment.
Even though Q&A is not available anymore, it is always good to see a leader lead from the front. Nicely done Jen and team.
NatGeo coverage of infosec twitter. Thank you for this @IAmMandatory 🙇‍♂️.
Marketing story of the week
This This ad by 1Password is great.  
Ryan Reynolds is playing the game on another level. He takes his fame as an actor and his personal brand and humor into his business endeavors, weaving in Wrexham AFC for example into this celebrity ad for 1Password. I'm sure it takes additional effort for him and his team to find and approve the right collaborations to do, but the end product sure is good and he's crushing.
Inspirational thought of the week: Zelenskyy's leadership
Trials don't just produce character - they reveal it. Ukrainian President Volodymyr Zelenskyy has been a stalwart of strong leadership and savvy communications during the course of the ugly attack on his country.
He's led from the front staying in the country rather than fleeing, he's done it with his leadership team, he's been active and proactive in communications with his country and the world.
I love this post and the story behind it. More leaders like Zelenskyy are needed in the world.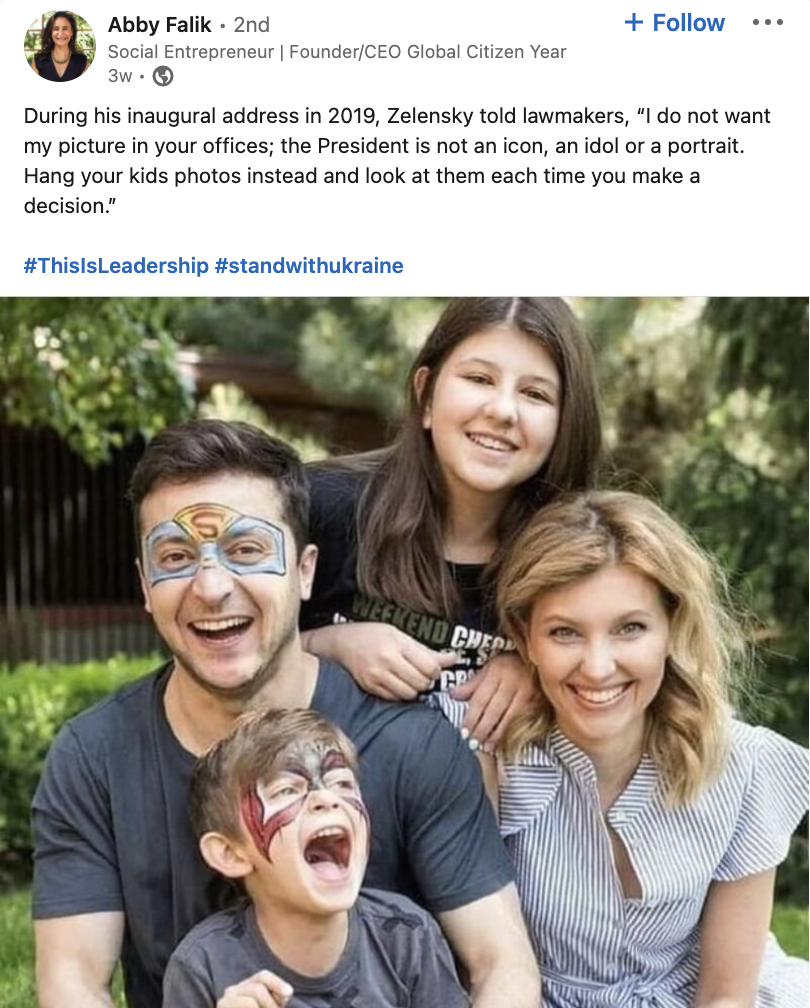 I'm daily inspired by Ukrainian strength and resiliency. My wife and I donated to UNICEF and there's more support needed for the millions of refugees. I pray for peace.