Brunello Cucinelli and Humanistic Capitalism
Build a business based on human dignity and a long-term perspective. Build a business like Brunello Cucinelli.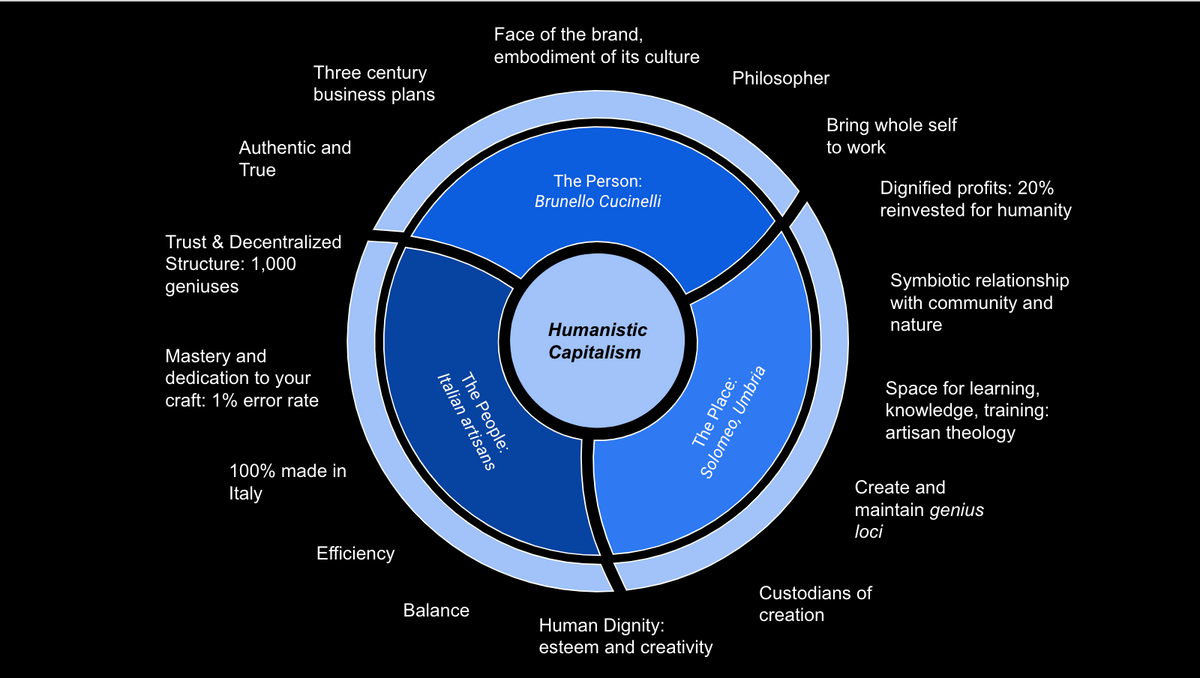 As for my business plans, I have three-year business plans and 30-year business plans but also three-centuries business plans. I think that this is another good breakthrough in the world. - Brunello Cucinelli as told to Om Malik in 2015.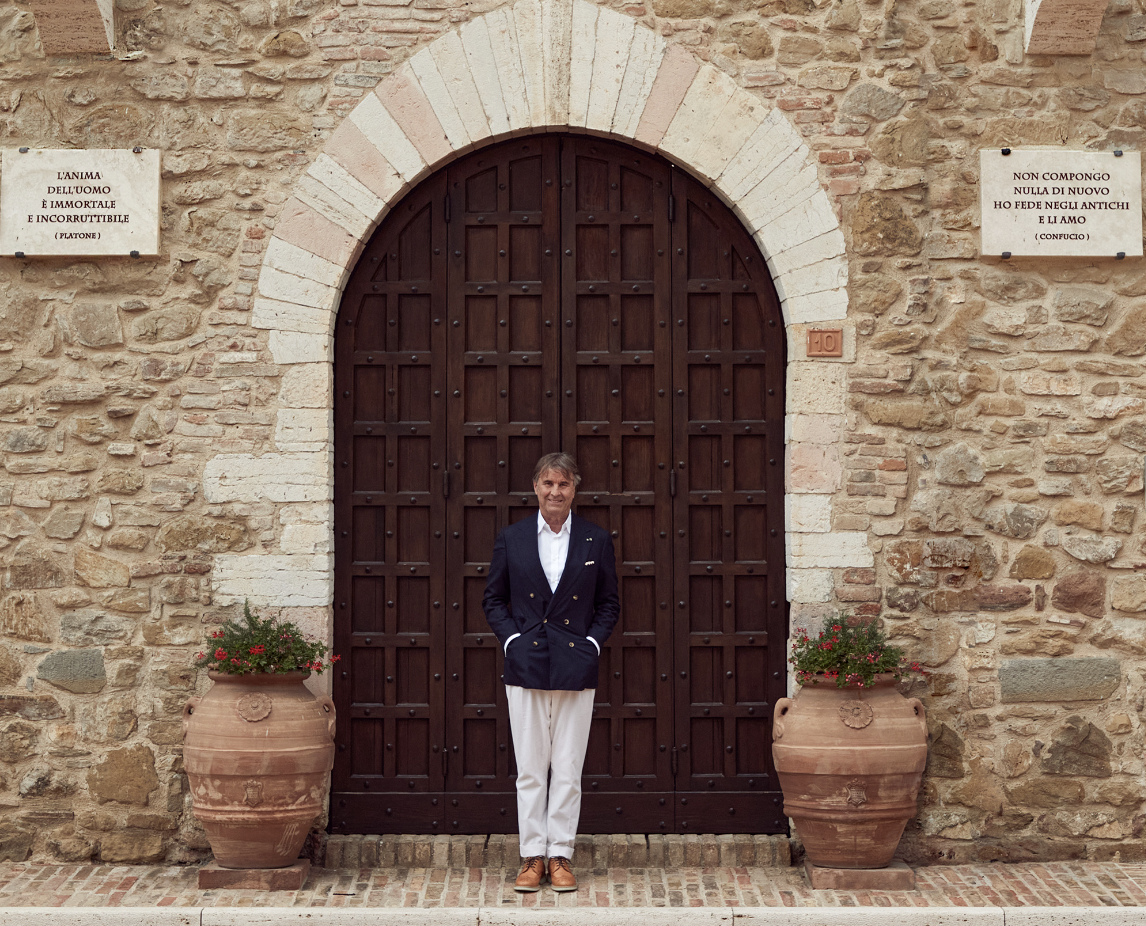 Former farmer, current philosopher, and forever inspirational capitalist; Brunello Cucinelli is the founder of the Italian fashion powerhouse that bears his name. Dubbed the "king of cashmere" by The New Yorker, his company produces 100% made in Italy luxury items. But it's how he goes about running his company and living his life that is the most interesting.
Om Malik calls him the "anti-LMVH". After watching House of Gucci I'd add he's the "anti-Gucci" as well.
He gives 20 percent of his company's profits to his charitable foundation in the name of "human dignity" and pays his workers wages that are 20 percent higher than the industry standard, mostly because it allows his company to encourage and continue the Italian craftsman traditions. Cucinelli also pays for an artisan's school in Solemeo: Young people are free to work either at his company or for another Italian company. The on-campus cafe is way more beautiful than Google Cafe or Facebook's facilities. And the pasta is really heavenly.
Business is good. The company expects to cross 1 billion euros in annual revenue by 2024 and has experienced strong growth YTD 2022.
What is humanistic capitalism?
What I mean by humanistic capitalism is precisely this idea, this concept of "fairness". A fair and sustainable profit, a profit harmonised with giving back, and here comes the first main theme: striking a balance between profit and giving back; donating to the world as guardians of creation, leaving to those coming after us not the very same world we found, but a more amiable one.
Secondly: making profit with ethics, dignity and morals. I don't know if I have succeeded, but this was my goal: not harming mankind in the process, or as little as possible.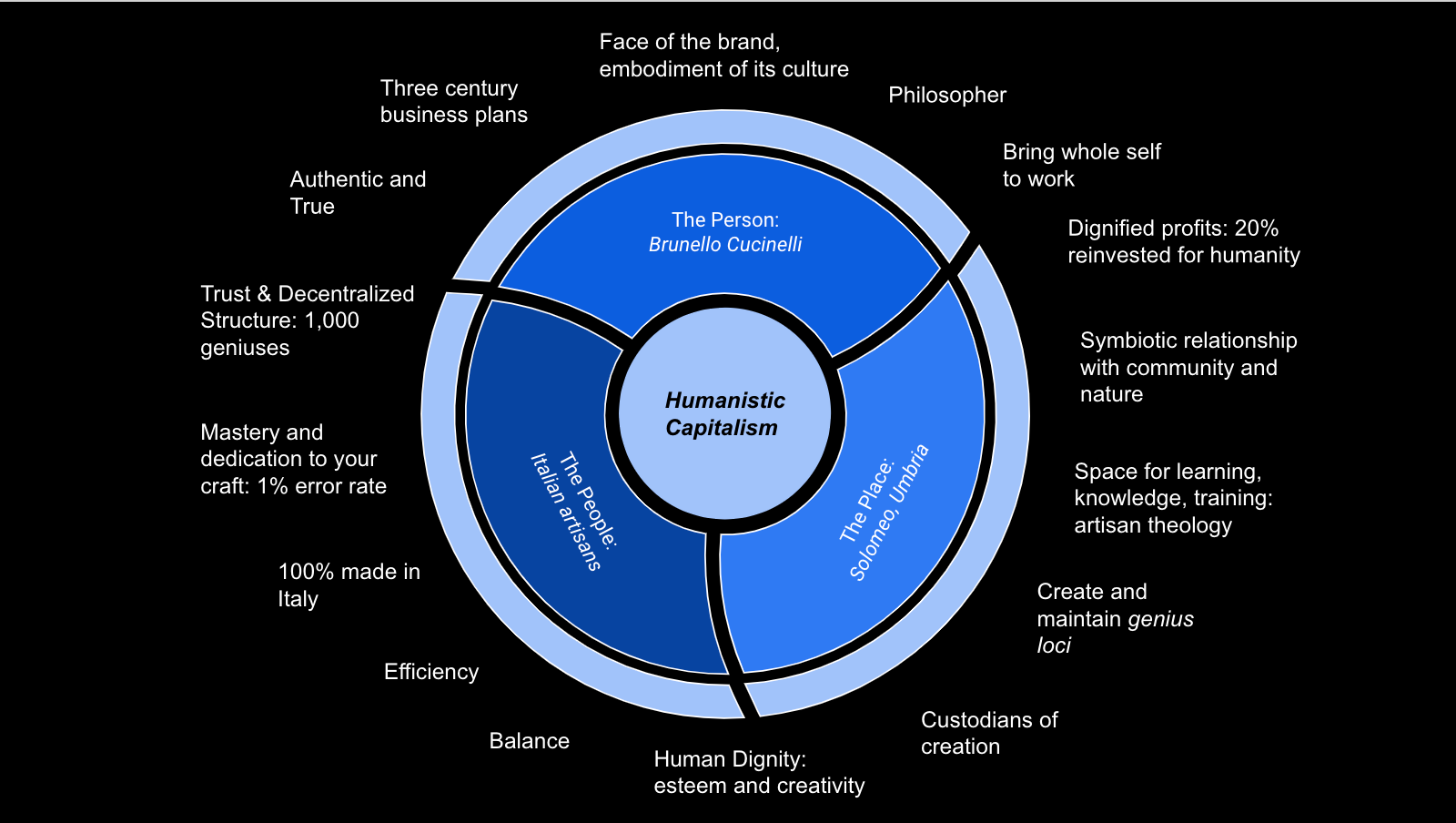 Themes:
Quality not quantity: Don't waste time. Be focused. Be at your best. Know your craft.
Balance: Work hard, then rest. Become a master at doing nothing, otium.
Success is not only profits. The purpose of business is to benefit humanity, starting with the community closest to its roots.
Human dignity: Make your work mean something. How you work and who you do it for matters.
Dignity of the worker
Central to Brunello's thesis of humanistic capitalism is the dignity of the worker. This is deeply personal to Brunello as growing up he saw his father mistreated and struggle to provide and maintain his dignity.
Several structural things Brunello has enacted set the stage for a work culture that admirably sets up workers to be their best.
No-one responds to emails after 5:30pm. No email can be sent to more than 3 people at a time.
I want to take a step backward. Who remembers the last email they sent yesterday? No one. Or the last text message. Emperor Hadrian used to say, "The daily business, the daily life, the daily chores, kills the human being." I'm not interested in daily chores. We have now swapped information for knowledge, which is not the same thing. I do not want to know. I'm not online. I don't even have a computer.
Everyone has a key to the building, there's a inherent trust and centralized structure.
If you have 1,000 people, you have 1,000 geniuses. They're just different kinds of genius and a different degree of intensity.
They invest in maintaining beauty around their offices and factories. Renovating old buildings into modern workspaces.  
They provide free, gourmet food and wine with 90-minute lunches.
But these perks carry with it a responsibility and expectation: bring your best.
You must know all of your business with a 1 to 2 percent error rate. It is also training for your mind.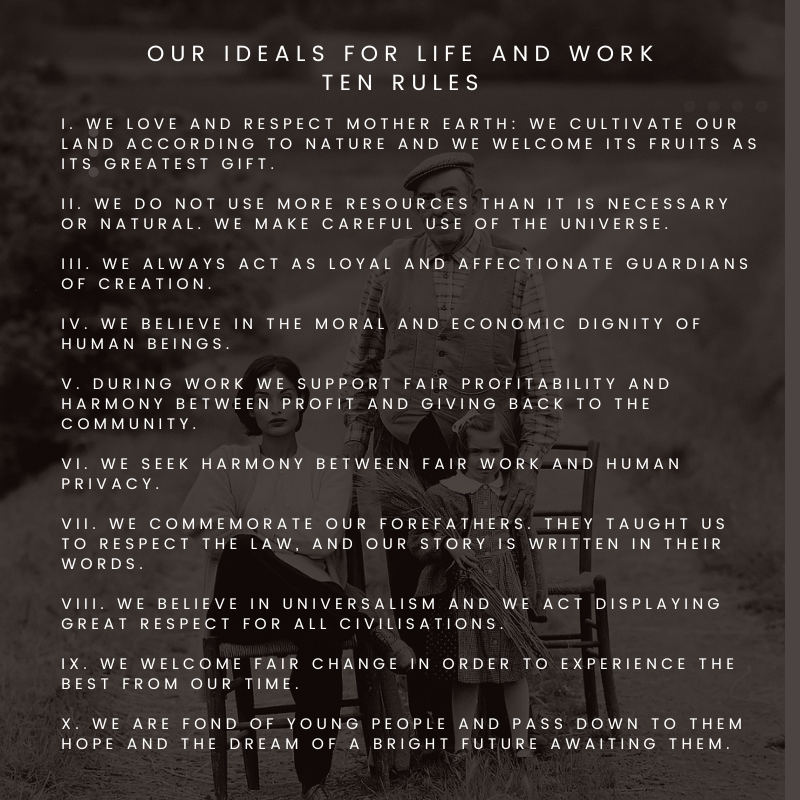 ---
Investing in community and beautiful architecture
In Brunello's mind, every business is a fabric of the community. Every business should serve and give back to the community that supports it just as the business is served by the people who live in the community and work there. It's a symbiotic relationship.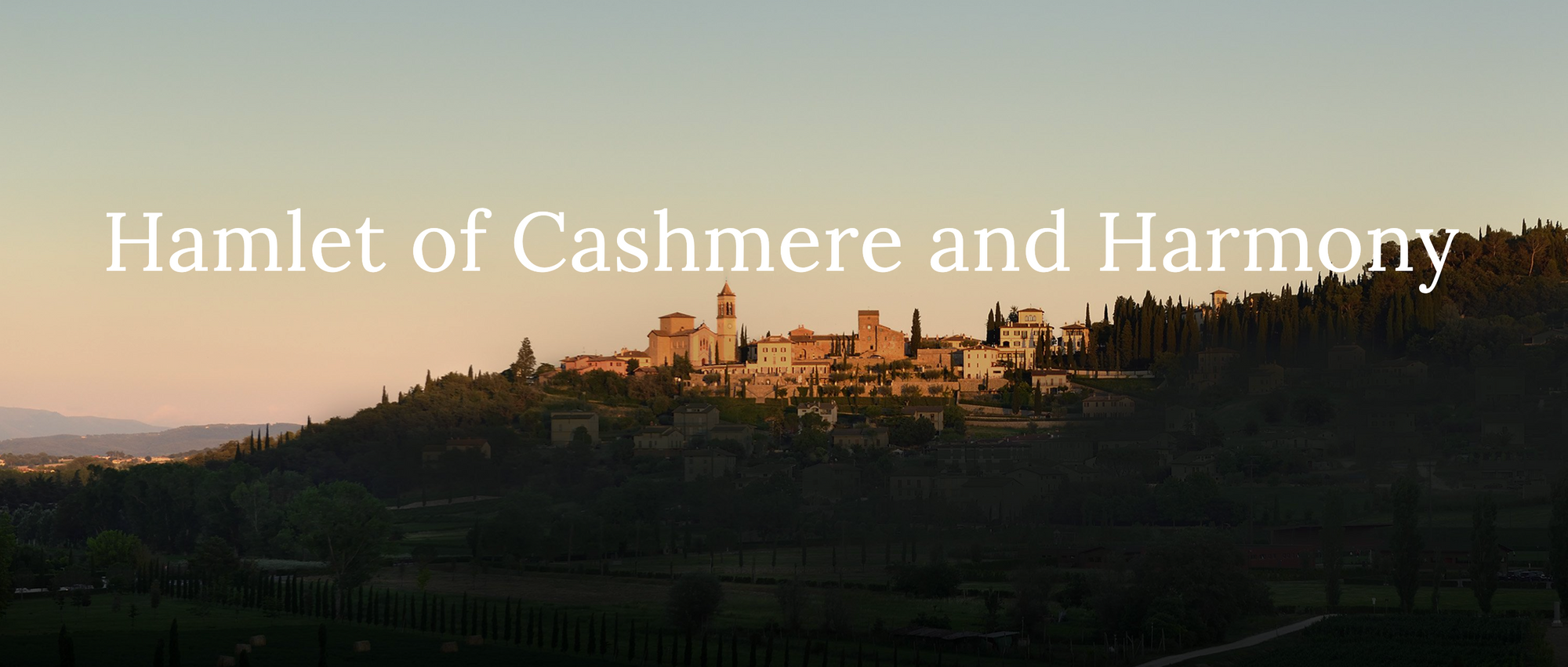 The cities are hell, and we have to go back to living in small towns, and start debating again, and rethink humanity. - Rousseau
Brunello has utilized profits and continuously reinvests them in the village of Solomeo in a big way: renovating buildings (or what Brunello calls "The Project for Beauty", developing a theatre, a library, and he even supports an artisan school where people can learn the craftsmanship of cashmere and the other items in the Brunello Cucinelli boutiques.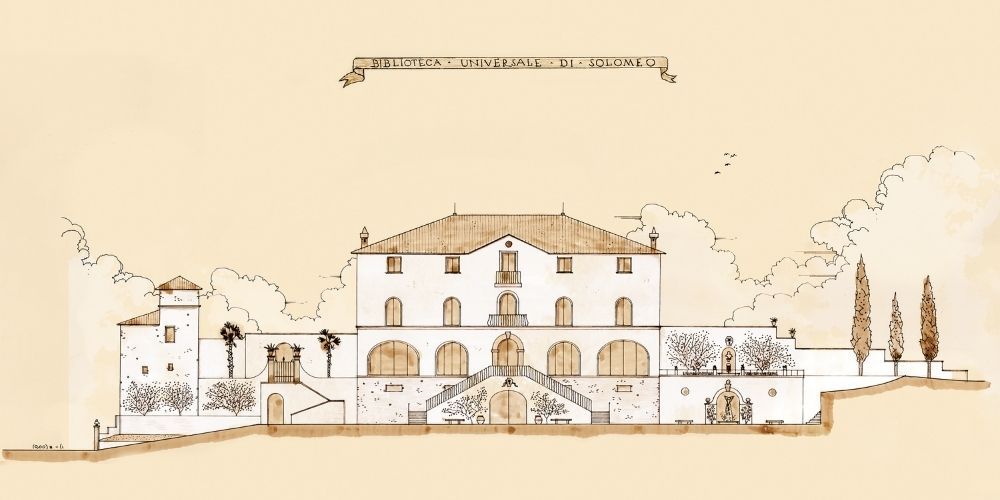 This vertical and horizontal integration harkens back to the symbiotic nature of Humanistic Capitalism. A staunch belief in the importance of a beautiful and quality working environment. An unwavering investment into the future: the people who work for him, and even those artisans who they train in the school that may go and work for another fashion house or pursue their own entrepreneurial dreams.
The human capital they're growing and developing is akin to the European style football clubs who have vibrant youth academies that sharpen the skills of young men and women. Many times they graduate to the 1st team of their beloved club (in this case it would be Brunello's company) but often they will get recruited or lured away to other clubs (a la Armani, Zegna, Gucci, etc.).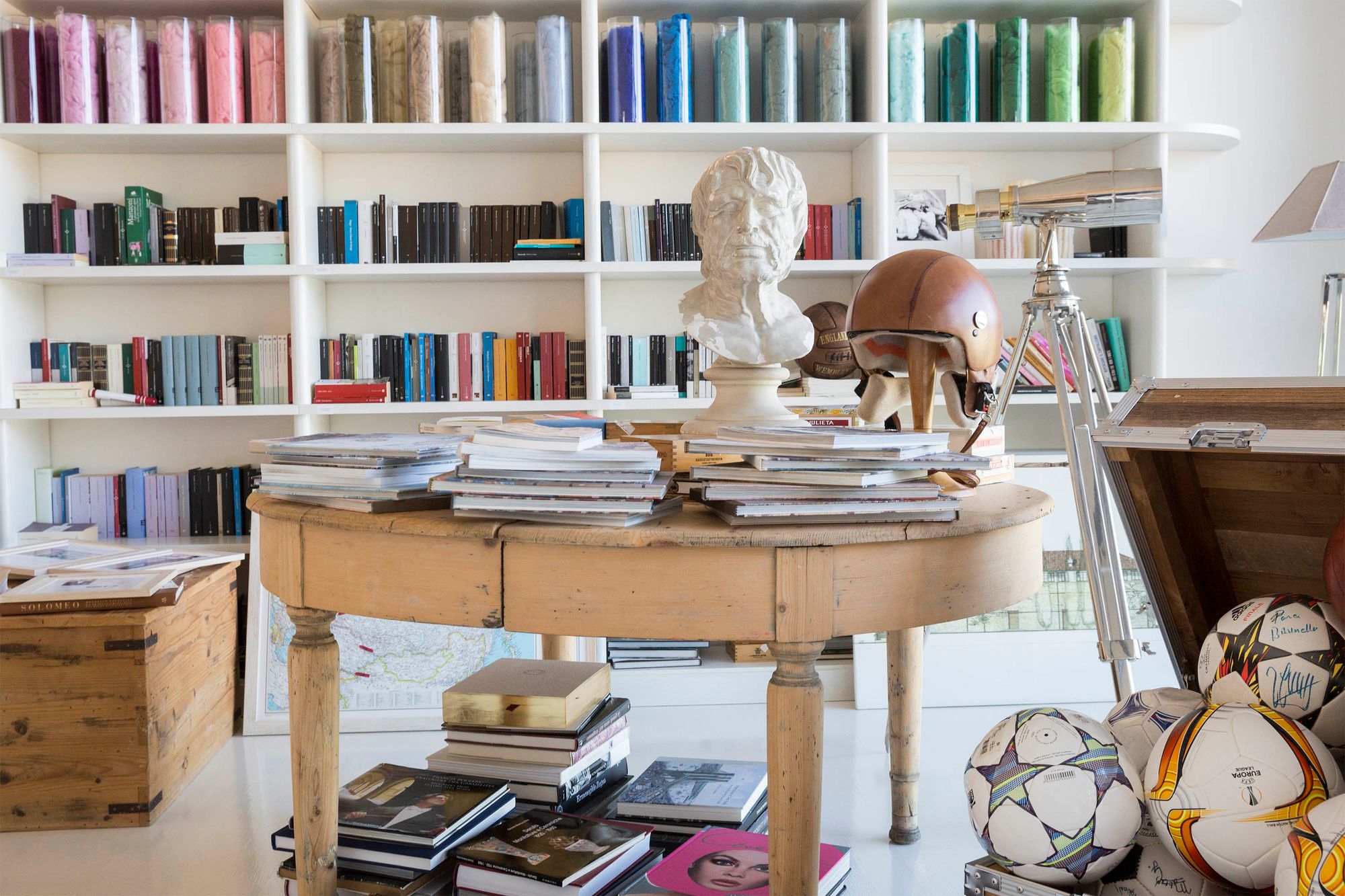 8 Insights to Brunello Cucinelli's Recipe of Business + Life Success
Invest in your people... From the workplace environment to the structure of the workday, to how you interact and collaborate to get work done. Dignity is a big word. Give it, live it.
Believe in humanity... What does"We love and respect each other" mean in practice? One way for BC: everyone has a key to the factory. Now from an operational security that sounds like a "er, no thanks". I've found in building high performing teams that arousing enthusiasm, showing appreciation and encouragement are key elements to empowering and encouraging everyone that their contribution matters. We all want to be a meaningful contributor as part of a winning team.
Create a structure where 1 and 2 are lived out. Be consistent. If you do not live out the ideals for life and work then it's empty words. Refuse to check email after 5:30pm and do not come into the office on the weekends.
Have the courage of your conviction. Be yourself... it will make you stand out from peers. Personality is profitable. Giving and philosophy and humanity is part of the brand, and you can't go back either (see #3). As Brunello told Om Malik: "I wanted the brand to have my face. I wanted the product to convey the culture, life, lifestyle, dignity of work."
Go all in... Know what's non-negotiable. BC's 100% made in Italy and vertical integration has helped spur them into a record financial year in 2022. When many businesses are facing supply chain shortages, BC has a moat since they build their product in-country and don't require a lot of imported technology . "On top of that, relying on its strong manufacturing pipeline, Cucinelli expects a 25 percent increase in revenues for the year" Yahoo Finance
Back up your rhetoric with results ... no one would care about all the dressings of humanistic capitalism if the business wasn't profitable and healthy. Brunello and his leadership can never neglect the profit-making side of business - as a public company shareholders wouldn't let them. It's like Michael Jordan said "If I didn't perform on the court, then the sponsorships wouldn't exist."
Think in centuries... The Brunello quote I included at the beginning of this article is worth re-reading. Have 3-century business plans: that's long-term, legacy thinking. It changes your perspective. My enrichment to that is a Biblical idea: have an eternal perspective. How will you make this world better than how you left it? What is the meaning of my life? What is my purpose?
Give back while you're making money... not, make money then give back. When you believe the existence of businesses are not solely for profit, it makes this decision of 20% of your profits given back to humanity obvious.  
---
Quotes:
In order to be credible, you must be authentic and true. Twenty years ago, something might be written about you in a newspaper. Then this newspaper would be scrapped, and that would be it. But now your statement stays [online] for the next 20 to 50 years — who knows how long for. To be credible, you must be consistent in the way you behave. Someone can say to you, "Listen, two years ago, you said something different." In a split second, they know. That's where lies that wonderful future for mankind.
Who remembers the last email they sent yesterday? No one. Or the last text message. Emperor Hadrian used to say, "The daily business, the daily life, the daily chores, kills the human being." I'm not interested in daily chores. We have now swapped information for knowledge, which is not the same thing. I do not want to know. I'm not online. I don't even have a computer.
The first time I was in New York, we had a tiny office, and they were emailing across it. I said, "No way. Just get up and go to your neighbor and ask them one thing, in one split second, in person." First of all, you look me in the eye. You smell me, my presence. Maybe I take the opportunity to ask you about your family. Don't you feel better than if you get an email? Maybe I smile and you feel even better.
Here, no meetings with mobile phones. No one is allowed to bring them into the meeting room. You must look me in the eye. You must know things by heart. You must know all of your business with a 1 to 2 percent error rate. It is also training for your mind. It is also a question of respect, because I have never called someone on a Saturday or a Sunday. No one is allowed to do so. We must discover this, because if individuals rest properly, then it is better.
Discussions over time, debate about theology, economics, economy, religion. If we said, "When was Kant born? 1750?" and your mind was working in the meantime. Now, split second, Google it, and you know. There it is. The mind no longer searches for things. For example, in what years was Marcus Aurelius emperor? When was that battle that we always talk about? What was there in that precise moment? What was going on?
There are some companies that give a lot of their money to charity. I'm not interested in that. Because first of all I want to see how they make their profit in the process. It is meaningless that they make a huge profit and then do charity.
There's luxury, absolute luxury, aspirational luxury and accessible luxury. Luxury is a handcrafted good or a place that is beautiful, well-made, exclusive. It must be exclusive; otherwise it's not luxury. It's nearly always something beautiful, well-made, true, and also useful and fair.
In 1220, Genghis Khan was boasting that in two days, he could do what the Roman army would do in 10 days. He was boasting about his speed. Man's feeling has not changed, but the pace has changed.
You must believe in the human being, because the creativity of a company — Let's say you have a company with 1,000 people. Maybe we were told that there are only two or three genius people in the 1,000. But I think that if you have 1,000 people, you have 1,000 geniuses. They're just different kinds of genius and a different degree of intensity. We hold a meeting here with all the staff every two months. Everybody takes part in it. Even the person with the humblest tasks knows exactly what was the latest shop we opened. Everything is based on esteem, and esteem then generates creativity.
References: