Masterworks.io's missing piece: Community
If you're not investing in modern art, why not? Get good returns and become a part of an exclusive community.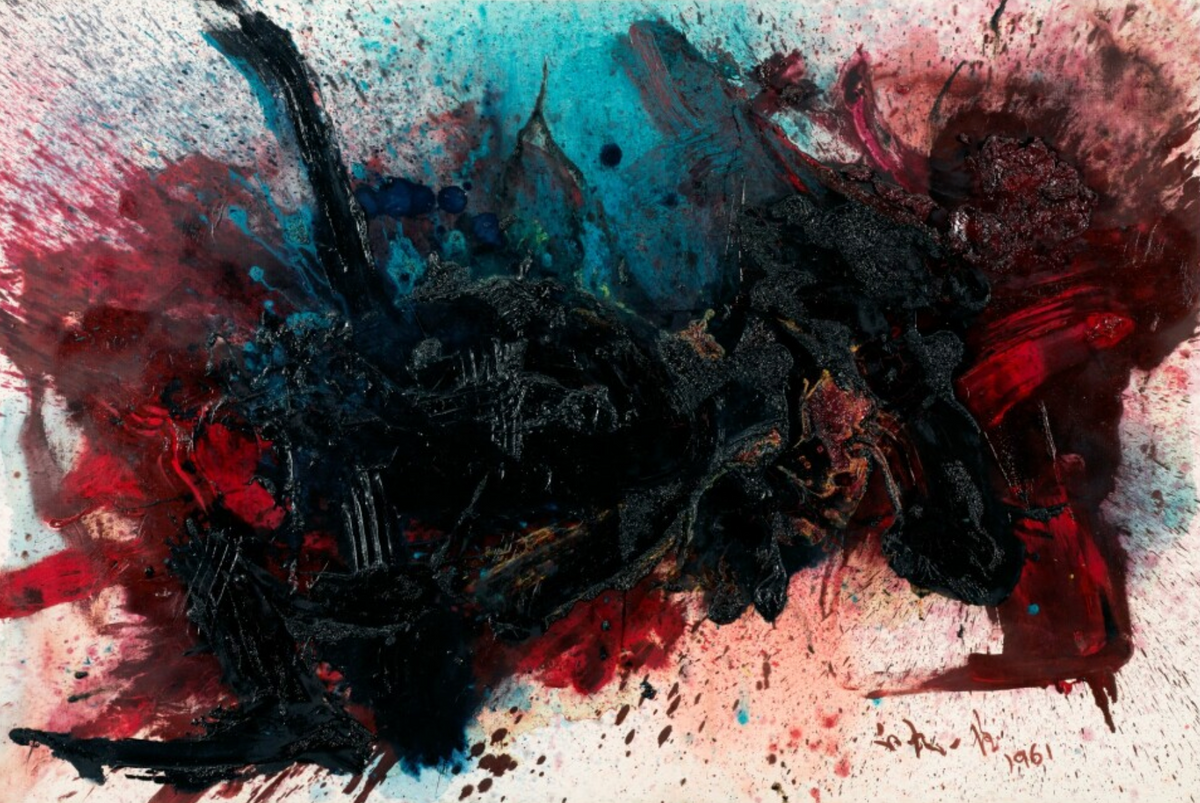 I find it fun to pretend that I'm an executive at a company. Especially business models outside of my current wheelhouse of B2B SaaS. It helps me with my investment acumen and forces me to think creatively about business challenges and opportunities.
My latest muse is Masterworks.io.  
Masterworks is the first platform for buying and selling shares in iconic artworks. It's a diversification investment strategy allowing people other than the ultra wealthy to own a fractional piece of million-dollar paintings.
Disclaimer: I have no affiliation with Masterworks and have no financial interest in the company, I'm just a fan of the product and I'm an opinionated guy. ;)
Turns out, contemporary art has a pretty good investment track record. Mostly recession proof as well.

Masterworks has a team of industry-leading researchers that vet and analyze all the paintings. They are tracking more data about the contemporary art market than anyone. Check it out yourself: https://www.masterworks.com/research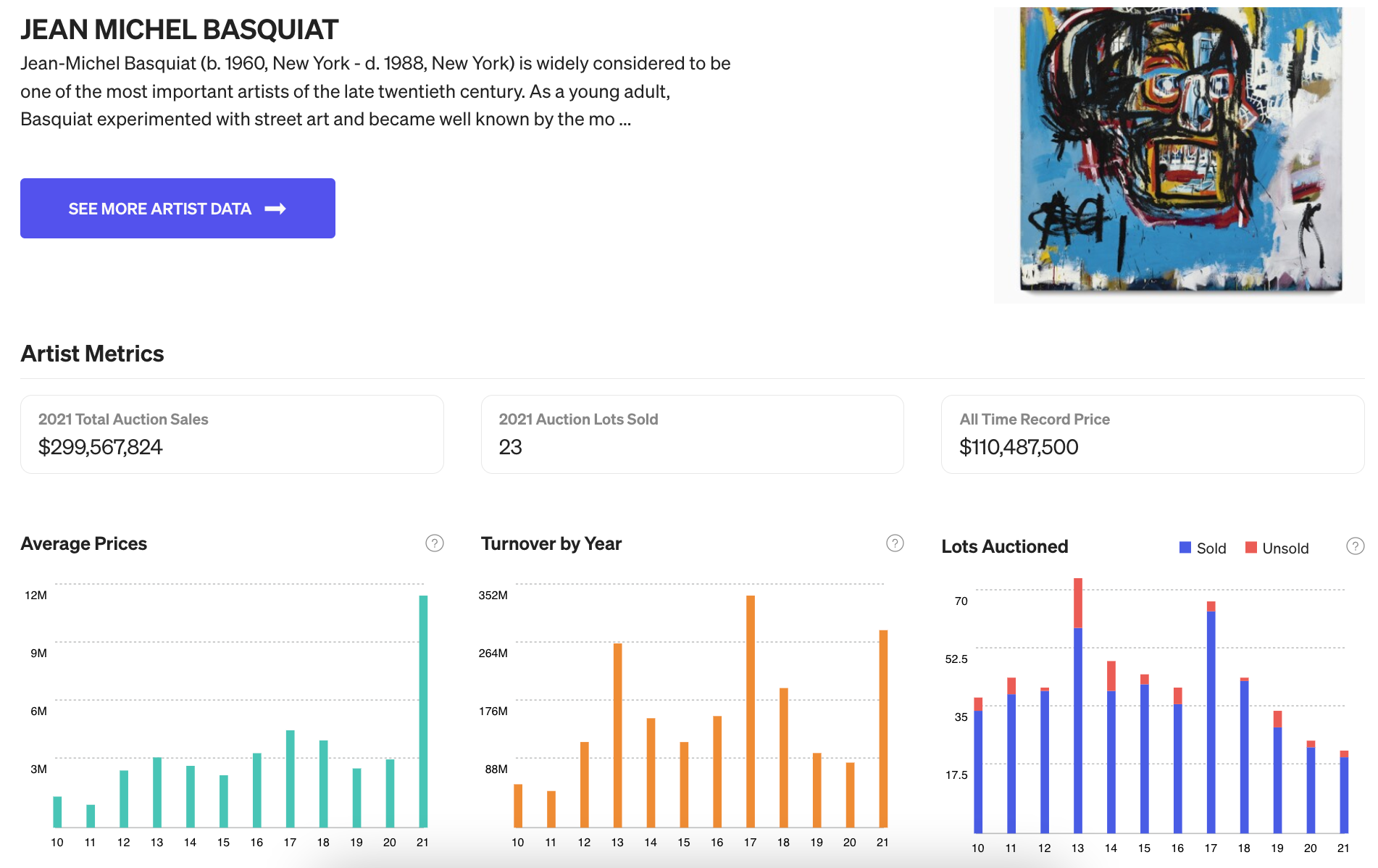 I think they have a great product and I am a proud investor. Here's my current portfolio: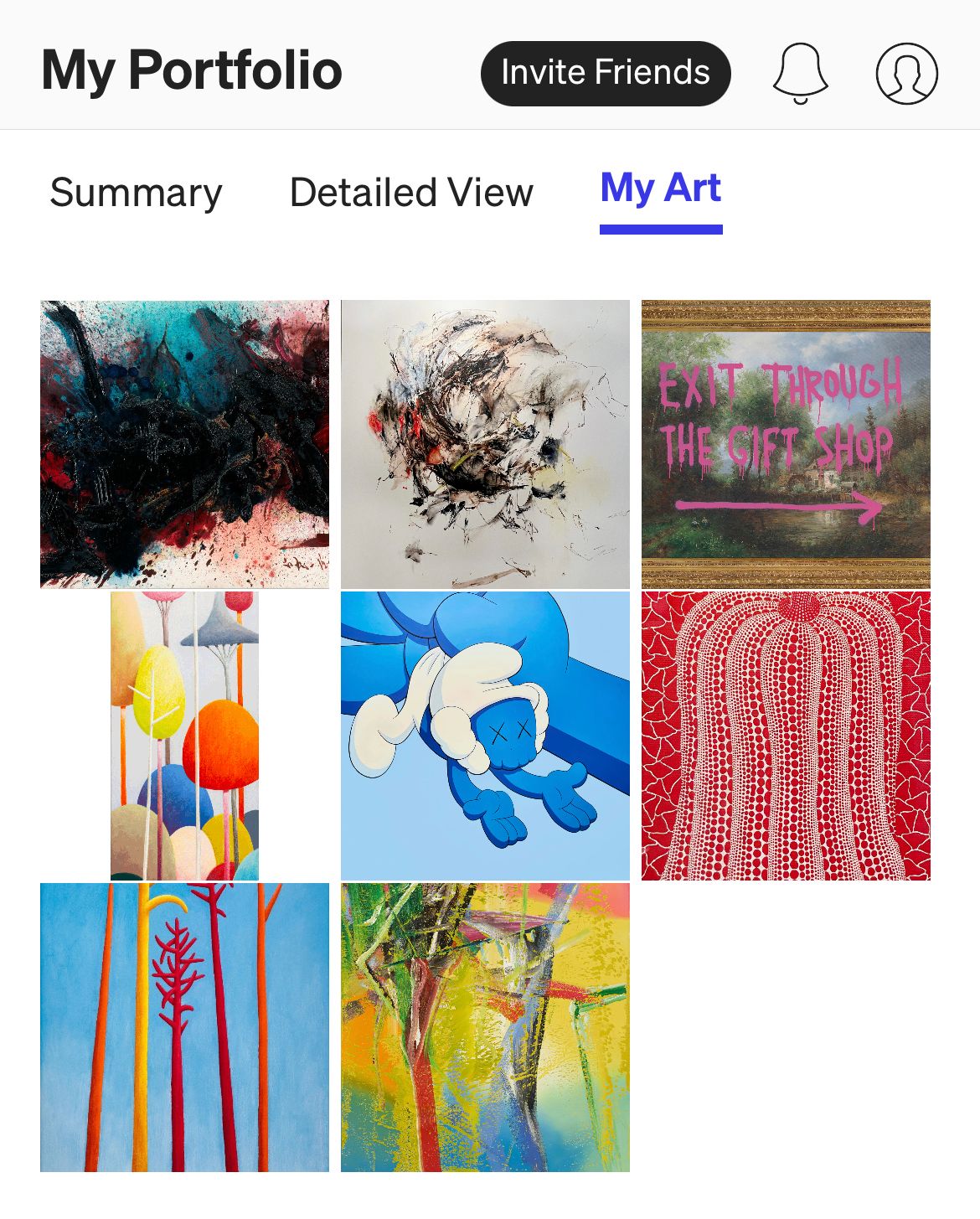 From left to right, starting at the top:
Chisuisei Tsuhien by Kazua Shiraga | 1961
Flying Rock by Christine Aye Tjoe | 2017
Exit Through The Gift Shop by Banksy | 2009
Landscape by Nicolas Party | 2017
Untitled (KURF) by KAWS | 2008
Pumpkin (Red) by Yayoi Kusama | 1991
Trees by Nicolas Party | 2014
Ziege by Gerhard Richter | 1984
In their marketing and product positioning, Masterworks focuses a lot on investment returns, and metrics like the sharpe ratio and comparison to other asset classes.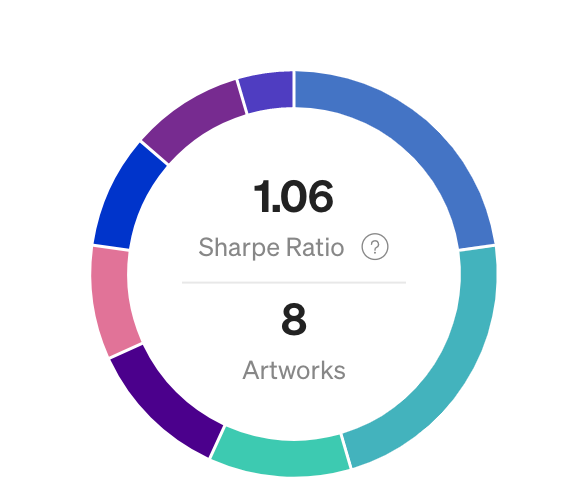 I think they're making a mistake by focusing on that so heavily. It limits their appeal and makes them  just another stock diversification option. They're missing an important part of their product experience: Community.
The Masterworks missing piece: Community
Art is beautiful. There's an emotional connection to it. Treating it just like a share in a company robs it of its rich tapestry.
The Masterwok's team has been emailing me more lately. Perhaps it's because I've invested in several paintings recently but no matter the reason, it's clear they're leaning in with customized emails and questions. Very nice user feedback efforts and interviews! They've even responded when I've sent questions back.
Here's one response I sent to Anthony, the SVP Investor Relations, when he asked about what I think of investing in living versus deceased artists. Living artists being more speculative.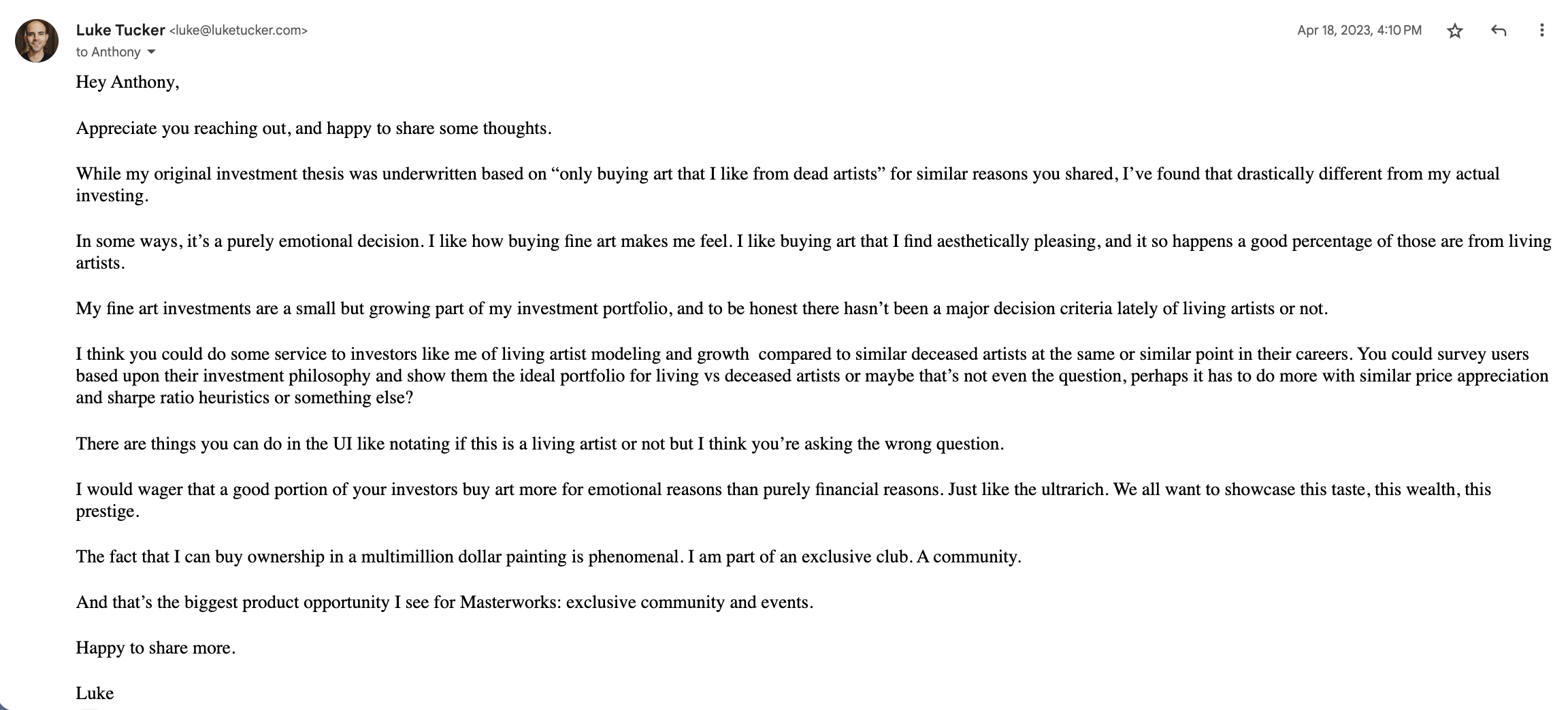 Other business and marketing ideas for Masterworks
I had a mini brainstorm session and just spitballed some ideas below. Perhaps MW team is doing some of these already or there's other strategic reasons they're not investing there, not sure. Either way, I had fun cooking up this list!
Partnerships / Collaborations
Partner with other alternative investing platforms like Commonwealth or Fundrise. Similar clientele, but do a joint marketing push or co-sponsor events.
Partner with local museums and have displays in their museums. Masterworks could be a donor and or talk to them about pain points they can help them solve. Part of building the credibility of Masterworks as more than just an art buyer, marketplace, startup etc, but making themselves integral to the community of artists.
Partner with Samsung to have their art displayed on their Frame TVs. Build an API from masterworks portfolios to the Frame TV portal (like this guy did). It would be cool to easily show off my art from my portfolio on my TV.
Partner with a real estate company like Sothebys or luxury hotels or high end Airbnbs for exclusive in-city events at their properties. This could go beyond just physical events too.  
Have "LP" meetups or exclusive events. Invest $50K you get exclusive access to certain perks and events, for example.  
Partner with fashion brands to host meetups at their retail stores. Drive foot traffic to the retail store, and build community.
Setup an artist endowment to recognize and celebrate up and coming artists. Masterworks helps artists get their careers supercharged.
Partner with top restaurants that are close to the modern art museums of the world's top cities. Host events, etc. Not like advertising in the window, but exclusive access or VIP tickets to the hostesses to offer top regular guests. Could do something similar for hotel concierges at hotels where target demographic patronize.
Partner with FoundersCard for exclusive investments or early access to Masterworks next 3 paintings for example.
Partner with art schools and offer scholarships or get art professors on their "ambassador" roster.
Content and social media:
Make your art researchers or curators into online personalities They would be the ones hosting parties, people with a lot of charisma and style. Like Peleton's fitness instructors. Help them create their own brands and build the MW identity and social clout.
Name Nick Gray as lead brand ambassador and inspire people to tour modern art museums. Find other relevant influencers to sponsor / partner with for content or more.
Create a public listing of every single artist and painting Masterworks has bought or currently owns and show where they have exhibits currently or events. Create the internet's best free and fully curated tool for listing art exhibitions globally. Would be a great source of lead gen and SEO.
Do an artist spotlight podcast. interviewing top artists and researchers, and others in the art world. Could definitely talk about the investing side as well but focus on the people behind the brush, the artists and personalities creating these assets that are so valuable and the backbone of Masterworks' existence.
Events and local communities:
Recruit "art ambassadors" and leaders in cities around the world. Give them recognition, budget, and even investment money to buy paintings. They could be "portfolio managers" and rep up and coming talent.
Do virtual  artists town halls and live Q&A with artists around top exhibits
A lot of these ideas tie together too. A partnership would come with unique content, in-person events, and co-branded content along with the a complete launch plan for the marketing activity, etc.
Perhaps I'll organize my own meetup of Masterworks investors sometime. If you're a Masterworks investor, let's connect!
In the meantime, if you're not investing in modern art, why not? Get good returns and become a part of an exclusive community. You can signup for Masterworks, with my referral link.